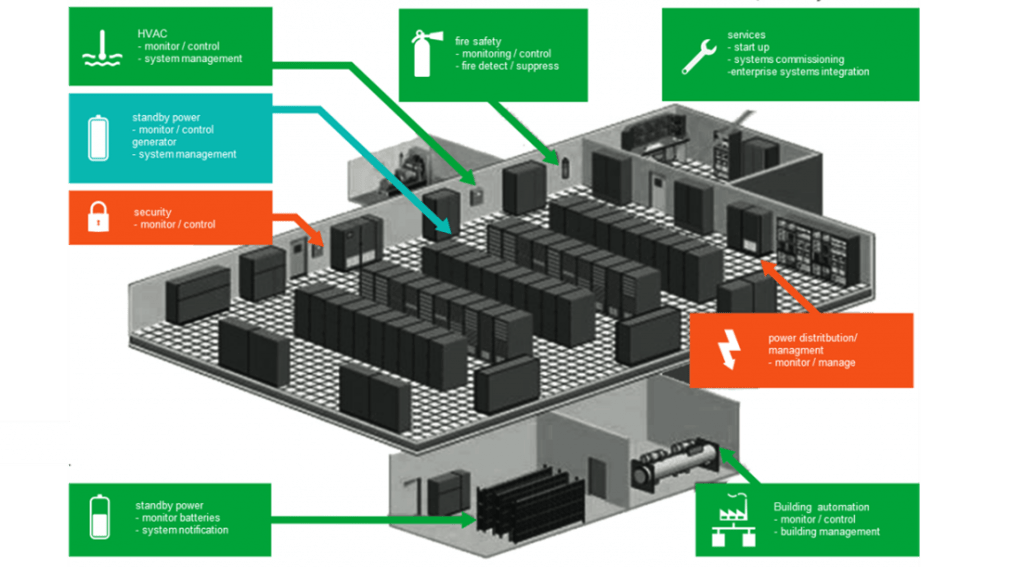 OVER 20,000 SQUARE FEET OF CONDITIONED DATA CENTER SPACE AT 151 Front Street, Toronto

Our HVAC (Heating Ventilation Air Conditioning) systems have full filtering and humidity control. The environment within the data center is maintained at a cool 68 degrees to ensure that your servers are functioning at their best, in an optimal environment.
Backup Power Systems
We do not rely upon the local power grid to guarantee uptime. Our data center has on-site diesel-powered generators and centralized Uninterruptible Power Systems (UPS) to provide power conditioning and ensure 100% uninterrupted data center operation. The generators are regularly tested to make certain that they will function as needed in the event of an emergency.
Network Connectivity
Rebel Networks utilizes the leading tier1 providers and CogentCo to be fully redundant, using redundant fiber entry points connecting with only Tier 1 upstream provider such as AT&T, Savvis, Sprint, and MCI. We guarantee 100% uptime and will provide you with credit for any downtime experienced, as detailed in our Service Level Agreement (SLA).
In Toronto, Our systems Are Housed at 151 Front Street
151 Front Street acts as a primarily North American communications hub for telecommunications carriers and data center firms from around the globe. As a connection point for corporate data networks, local and long-distance telephony, internet peering, and critical storage facilities, the 151 Front Street building has been designed to accommodate the highest standards of security reliability and connectivity.
Points of Entry
151 Front Street has more than 25 Points of Entry (POE) penetrating the building, offering an extensively diverse pathway and "Fiber Connectivity" solutions for any subscriber or service provider wishing to enter. 151 Front Street can be entered from all sides, increasing the number of right-of-ways that can be used to gain access. Further, the proximity to the rail lines, a major right-of-way for national fiber optic loops, enhances access to national networks.
Meet-Me Room
Located in the heart of the building, 151 Front Street manages a highly secure fiber optic Meet-Me room, offering easy access from building entry points; it is adjoined by a diverse riser system. Built-in 2000, this room now houses access points for networks that literally span the globe. Phase 2, or a secondary Meet-Me Room, will be coming to the building soon.
Riser System
The Riser System consists of two diverse pathways linked directly to the Meet-Me Room and connects vertical pathways all the way to the penthouse level. The system offers diversity for your networking requirements as well as a lease of installation for speed and cost savings.
Security
Uniformed security patrol The premises and surrounding area 24/7/365 as part of a customized security system and protocol while optical turnstiles and door entry card access provide a second level of security. Tenants also deploy their own proprietary security systems. Access to all high-security areas, such as the Meet-Me Room and Rise Systems, requires a supervisor to monitor all personnel.
Electrical
A reliable source of primary power is of paramount importance to 151 Front Street's 7/24/365 operation – an expensive but necessary venture to secure a reliable power supply from the local substation. In 2001, two new 4000/5000KVA transformers were added to ensure the reliability of 151 Front's power supply. These transformers are fed by dual underground 13.8 Kv feeder lines from the local substation.
Cooling
New district cooling provides chilled water to the building according to the predetermined temperature capacity and consumption. With our tenants' higher-than-normal cooling requirements, this ensures a reliable chilled water supply that can easily grow with the building's needs. Many 151 Front Street tenants have installed secondary cooling units "condensers" on the roof area.
Diesel Fuel Farm
To support the generator power plant, 151 Front Street Toronto environmentally compliant diesel fuel storage facilities can house up to 44,000 gallons in tenant-owned tanks providing fuel to the generators. 151 Front Street owns the street at the back of the property, thus refueling trucks and roll-up generators enjoy unrestricted access to ensure their facility's 24/7/365 operation during an emergency.
Rooftop
151 Front Street pre-engineered the placement of structural steel to support the added weight and vibration (now housing 18 generators) when in full operation. To facilitate tenant requirements for secondary cooling, a similar structural steel grid was installed on the roof to accommodate the array of condensers, fluid coolers, glycol pumps, and chillers.